We discovered this brand in LA this past week. In the city that gives "grimey" a whole new name, this brand is bringing some great movements across the fashion industry - environmentally friendly and fashionable. If your part of the "reduce, reuse, and recycle" crew that we are, you'll want to take a good look at this company. They are turning trash to treasure, grimey to gatsby, and old into new. Their "up-cycling" is one of the most Gatsby in the business. They have a great line of products that can be used for any aspect of the day.
"While medieval alchemists sought to turn lead into gold, we strive to turn useless stuff like blown-out inner tubes, old seatbelts and advertising banners into useful stuff like bags and wallets. Another word for this is upcycling. Recycling turns stuff into the same thing over and over again. Upcycling turns something of lesser value into something of greater value." - Alchemy Goods
Recently on a trip to Denver, I was introduced to Beatrice Holiday at
Megafauna
. The crew there told me of the bike culture that is sweeping Denver. Earrings, bags, bike accessories, and all things for "eco-riding" that you could want. They have some of the hottest touches for the "Green Team." The need for carrying your belongings on any bike ride is a decision making process. Not with the handle bags and comfortable seat covers. In Denver, every Wednesday, the Denver Cruisers take the streets in communal interaction, community awareness, and fun. As they mob from place to place the streets are completely filled with bikers. It speaks volumes to those of us that enjoy the outside and keeping it clean. It also is a new way to express yourself and your bike in the "herd."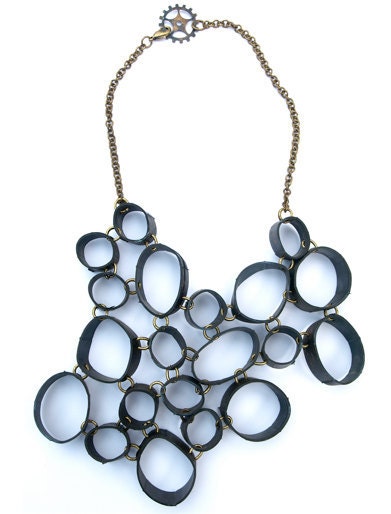 "I also wanted to support an alternative mode of transportation
and promote the positives of biking versus driving your car.
Beatrice Holiday donates a percentage of profits to local
bike shops that offer FREE parts and knowledge.
Change at a community level."
-Allison Franson - Owner