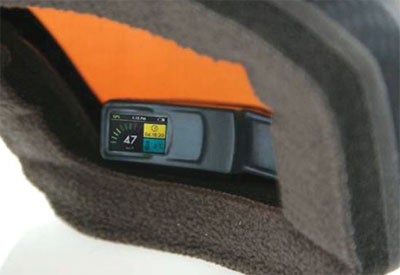 Remember when Terminator sizes up the window with his "robot eyes" before, "I'll be back." Remember when Robocop walks down the street and can zoom, find distance, and speed? Now you can have this instant information at your eyelids too. Zeal Optics has unleashed the next best thing since GoPro. Recon Instruments and Zeal Optics have teamed up to bring this Transcend GPS ski goggle. It includes an LCD display screen on the INSIDE of the goggle that projects a dashboard. The dashboard logs speed, altitude, distance, time, stopwatch, chrono modes, and temperature. It really does bring a new meaning to "smart" and "winter sports." The dashboard is controlled by "glove friendly" buttons that are on the frame. There is a USB port for the goggle to upload your journey to your computer. They weigh 257 grams (so don't get worried about back country gear weighing "too much") and includes a rechargeable battery that lasts for 7 hours. There are two models available that include "top of the line" Zeal optic lenses. Polarized is $499, which uses the "changing" lenses from dark rose to yellow depending on the environment. For $399, you can get a set with the standard polarized lens. If you are the techie in the group, the fastest skier, the biggest hucker or the longest back tripper on the planet; these are goggles to take you to the next level.
If you have seen or used the Zeal Optic "Transcend" please drop us a comment. We would love to know your feedback. They come out next month!!!!!!
Check out this video on how to set it up.
Something for the futuristic Gatsby's