The GG Guide to being Gatsby........
In mountain towns around the world, there are men that continue to use "another day on the hill" as an option for evening attire. We term this as "lazy." We have women writing in asking for "suggestions" for the men in their lives. They asked us to give men a HEADS UP since they are lacking in some areas. First, to get laid......you must look good. There is a saying, "don't judge a book by it's cover....." We feel...."the more Gatsby the cover the faster someone will pick it up!!!"
Men, this is for you, it's free, and most of all.....you don't know it, but you need it. Sorry to come across like that.....but we, women, have spoken (from Aspen to Manhattan, Whistler to Wyoming, Tahoe to Texas, NYC to LA). Here are three styles for you to USE
this winter instead of the Patagonia jacket your rad bro told you to buy because, "DUUUUDE, Patagucc is the best shit out."
And he was right for the mountain......not as a walking sleeping bag for town.
For the nightclub, the dinner date, the music show, a day trip, a party, or just an evening with the crew...........PLEASE PLEASE PLEASE......take a second and make yourself look Gatsby. Your lifestyle will thank you.......and the women will notice!!!!
The Professional


duncan quinn, Gucci, Burberry, cuff links, black shoes, closing deals, and pocket squares
Don't forget that class and color can be mixed when needed. In today's look, you need to set your subtle standard higher than the next Gatsby. It's always in good taste to look crisp, clean, and concise when being professional. Try complimenting ladies on their look and never forget to hold a door. Keep it true to form, old chap! If you are above the curve......dress like it.
Change is constant and so should be your wardrobe in the professional realm. If your always closing; your always looking Gatsby!
alife, the hundreds,
ISVERA
, UNIV, jeans, hats, freshness, and beanies
The street culture is a class unto itself. The hip, the cool, the old school....it's all here in 2011. Keep your accessories clean and your bills flat (20's and New Era's). Color is something that you can play with and match (hat, shoes, and belt). Don't forget your local brands from the streets - REP YOUR HOOD!!!! They always have parties and fun ways to meet other Grimey's. Your style is your SWAG and your SWAG needs to be Gatsby. Tongues out for the new shoes and bring your game to another level with our help. You will always look Gatsby with our Rolodex for the streets.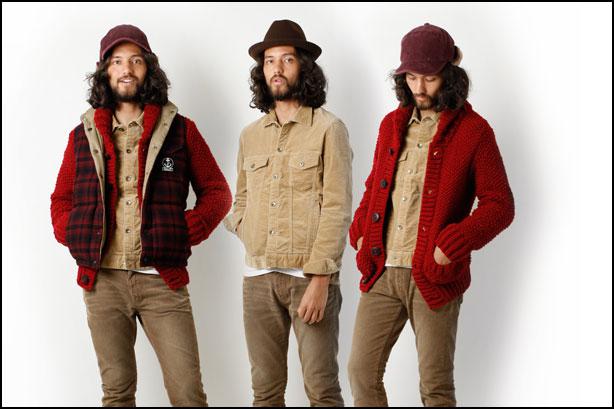 5 O'clock shadow, flannels, sweaters, earth tones,
Red Wing Boots
, and the outdoors
When you live in the mountains, they can try to consume you and your attire. Remember there is a difference between DAY and NIGHT. You can keep your edge of rustic realness even with a pinch of Gatsby. Your style is you and you must transform from mountain to town......and vice verse. The winter allows for layers, accessories, and blending old with new. Old boots, new jeans, and your favorite Brixton hat make for a solid base. Thrift stores in mountain towns are littered with flannels, jackets, and accessories. Haircuts and shaving are great ways to start a "new look." Keep the local women on their toes with subtle changes to your wardrobe.